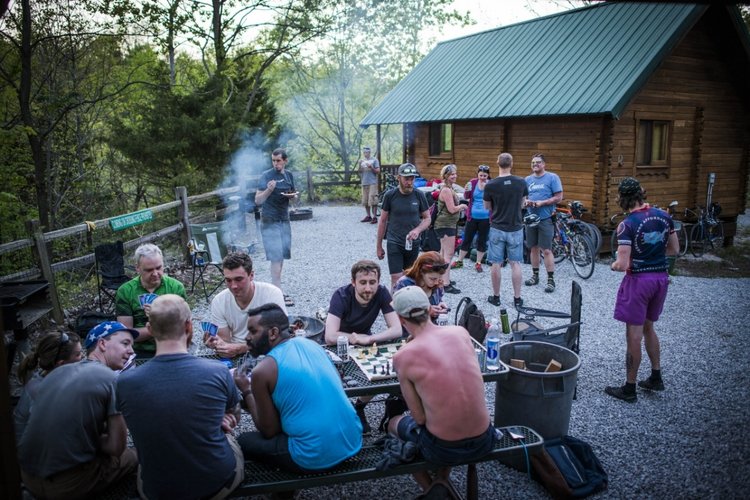 Summertime is filled with outdoor adventures - bike rides, camping trips, and sharing stories with friends around a campfire. Let's take the best parts of summer and combine them into a 2-day biking/camping excursion.
Spoked Adventures leads a fully supported all-inclusive overnight bike camping trip to Klondike Park in Augusta, MO. Bike camping is an amazing adventure but can be a challenge! Don't worry if you don't have all the gear and means to carry everything into the wilderness, that is why Spoked Adventures is taking care of all the planning and hauling. You just have to ride your bike! 
Want to learn more about bike camping? Spoked Bikes & Stuff will be offering "Bike Packing Basics" classes every month. This class is designed to cover the some of the basics of bike camping and touring.
---
The Ride Details
Participants will have the choice of two route lengths. Both rides will be fully supported, meaning that we will be carrying your gear and offering mechanical assistance.
The 54 mile route will be leaving Spoked Bikes & Stuff on Cherokee Street at 9:30 AM and will ride to the Trailhead Brewery. This leg of the route is 27 miles and is estimated to take around 2.5 hours. Here the 25 mile riders will join together for the next leg of the trip.
The 25 mile route will be leaving from Trailhead Brewery shortly after the riders from the 27 mile route arrive. This should be around noon. The trip from here to Klondike County Park is 25 miles and should take right around 2 hours.  
Day 2: After breakfast and breaking down camp, everyone will depart Klondike Park around 9:00 AM. The route back will be the reverse of the route taken to the campsite the day prior.
Riders for the 25 mile route can park their cars parked by Trailhead Brewing overnight. Check the map of the route to locate your preferred parking.
Here is the map for the trip. Both routes are represented separately in layers.
---
Ticket prices includes:
Safely guided, pre-planned route 
Mechanical support
Cabin equipped with beds, indoor bathrooms, shower house, and electricity. (there is only one outlet so external battery packs are encouraged)
Two meals cooked over the fire: Dinner on the the first night and breakfast on the next morning
Firewood
Transportation of overnight gear (limited to one bag)
---
Participant Requirements:
Capacity to carry what you need for the ride portion. We reccommend trying to keep your back free by using a rear rack, saddle bags, panniers, porteur bags, etc.... This will be covered more in our "Bike Packing Basics" Class
Food and water for the rides. There are a number of gas stations on the way for you to refeul.
Basic tools (flat kit, spare tube), 
Appropriate clothing
Fully functional bicycle. We will be offering mechanical support to cover incidentals and basic malfunctions.
Spare Cash: On our way out to Klondike Park, we will be taking a break at Bike Stop Cafe in Old Town St. Charles for a lunch.
*Ticket are non-refundable.
**This is a "rain or shine" event