Pelican Island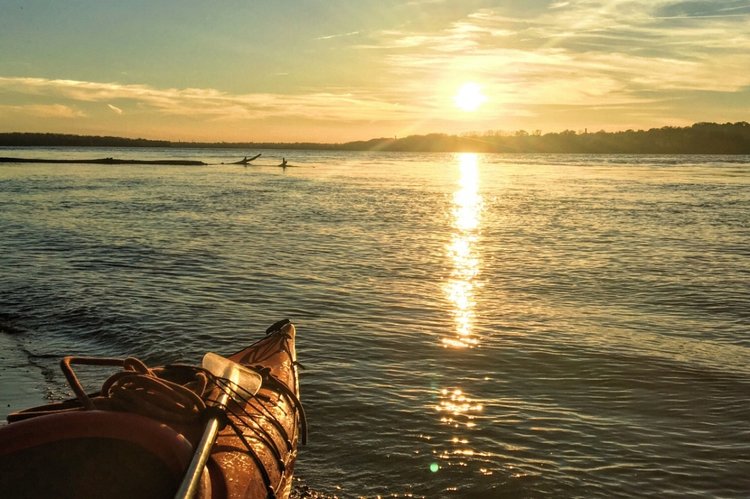 On a remote island....
Combine pedaling and paddling. There are a number of remote islands on the Missouri River. Very few people know of these islands and even fewer have camped there. This is an opportunity to experience something truly unique.     
Spoked Adventures leads a fully supported all-inclusive overnight bike and canoeing trip to Pelican Island. All-inclusive means our staff will provide mechanical support for the bicycle rides, transport all of your gear, navigate the river route, prepare meals and share loads of information about the beautiful Missouri landscape. 
We've carefully designed this, and all of our adventures, to be safe and approachable for all comfort levels. Our guides have years of experience and we handle everything so you can sit back and enjoy the ride. 
Want to learn more about bike camping? Spoked Bikes & Stuff will be offering "Bike Packing Basics" classes every month. This class is designed to cover the some of the basics of bike camping and touring.
---
The Ride Details
Day 1: The 26 mile bicycle ride will be leaving Spoked Bikes & Stuff on Cherokee Street at 9:30 AM towards Jean Baptist Point DuSable Park. This leg is estimated to take around 2 1/2 hours. At DuSable Park, the trip will meet up with the guides from Big Muddy Adventures who will take all passengers and overnight gear on a 4 hour canoe trip ending at Pelican Island.  Bicycles will be left behind and transported to the the river take-out point the following day.  
Day 2: After breakfast and breaking down camp, everyone will depart Pelican Island around 10:00 AM. The return canoe trip from Pelican Island to Sioux Passage Park will last about an hour. Once at Sioux Passage Park, participants will be reunited with their bikes and ride back to Spoked Bikes & Stuff. This ride is 25 miles and should take around 2 hours. Gear will be transported back to Spoked Bikes for pickup upon arrival.  
---
Ticket prices includes:
Safely guided pre-planned bicycle route 
Mechanical support
Expert-lead canoe journey with gear transportation
Primitive camp sites
Two meals cooked over the fire: Dinner on the 18th will be hamburgers, hotdogs, grilled veggies, smores, and of course ice cold beer. Breakfast the following morning will include Sump Coffee, bacon, eggs, potatoes and veggies. 
Transportation of overnight gear. Because all of the gear will be transported via canoe, all participants are limited to one bag.
---
Participant Requirements:
Capacity to carry what you need for the rides. We reccommend trying to keep your back free by using a rear rack, saddle bags, panniers, porteur bags, etc.... 
Food and water for the rides. There are a number of gas stations on the way for you to refeul.
Basic tools (flat kit, spare tube), 
Appropriate clothing
Fully functional bicycle. We will be offering mechanical support to cover incidentals and basic malfunctions.
*Ticket are non-refundable.
**This is a "rain or shine" event